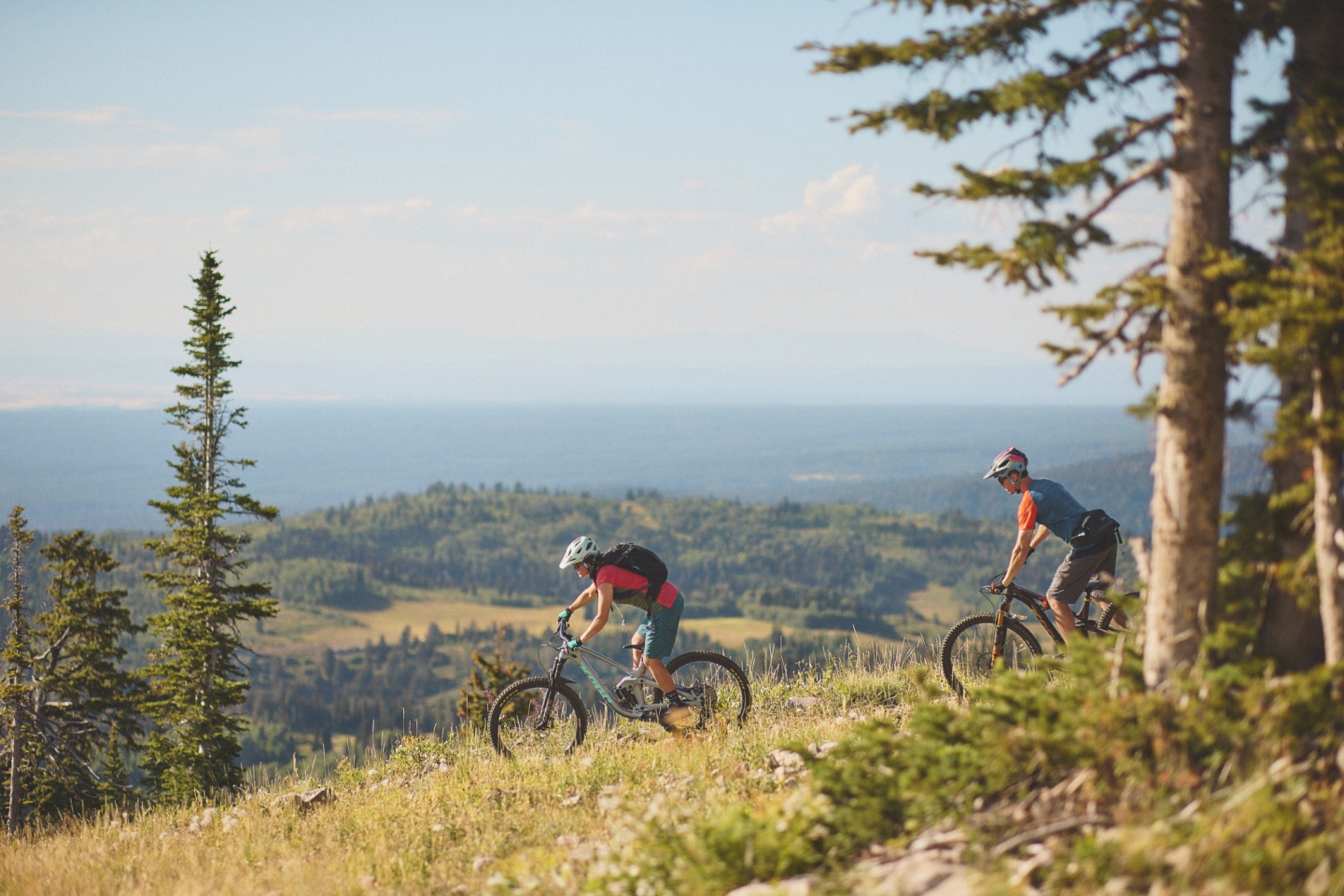 Bike School
Mountain Bike Lessons
With the lift serviced Grand Targhee Bike Park and our miles of epic single-track, there is great riding for every type of rider. All Mountain Bike Lessons are designed to maximize your enjoyment on the bike while building your skills and confidence, all within a safe and progressive learning environment.
Bike Lessons are only available as private lessons.
If you are new to the sport or want a quick tune-up, instructors can introduce the fundamental skills to ride effectively while having fun, staying safe, and gaining confidence. Experienced riders can elevate skills on our downhill or cross-country trails. Lessons help teach and improve fundamental & technical skills including proper body position, braking, shifting, cornering, technical climbing, descending and more, to have you riding more confidently to ensure maximum enjoyment of Targhee's legendary trails.
Our instructors are also available to guide groups through our downhill and cross-country trails. Please contact our Central Reservations Department for more information at 307-353-2300 ext. 1
Mountain Bike Lessons
Start Times
Price
How to book

2-Hour Mountain Bike Lesson

UP TO 2 GUESTS INCLUDED

10:00am, 1:00pm, 3:00pm
$125
Book Now
3RD Guest Add On 
 
$75 
Add to your Order
QUICK NOTES
Private lessons are offered for ages 6 years and up.
Available disciplines: Cross-Country and Downhill.
Maximum of 3 guests per lesson. The third guest is not included in the private lesson price and must pay an additional fee of $75.
Bike rental and lift tickets are not included.
HOW TO BOOK
We are very excited that you will be developing your bike skills with our experts. Before starting the booking process, whether online or through our reservations team at 307-353-2300 ext1, please gather the following information for each biker: 
Preferred date & time 
First & Last Name 
Date of Birth 
Discipline: Downhill or Cross-Country 
Ability level 
Please email this information ahead of time to  reservations@grandtarghee.com to expedite your booking process through the call center. 
If you need bike rentals and/or Bike Park Lift tickets, please book them separately.  
CHECK-IN information 
Check-in at Grand Targhee Mountain Sport School 30 minutes before your bike lesson. Please sign our Summer Activity Waiver ahead of time to expedite the check-in process. Visit shop.grandtarghee.com, login to your account, go to My Account > Check In. Bikers will meet their instructor on the gravel area between the Plaza and the Dreamcatcher lift. If you have bike rentals and require lift access, please collect your bike rental and lift ticket before the lesson. 
Guests under 18 must be accompanied by a parent or guardian to sign a release form. 
CANCELLATION POLICY
All bookings must be paid in full at the time of booking. Cancellations must be made 72 hours in advance and will be charged a processing fee of $25 per guest or party. Cancellations made within 72 hours of the scheduled lesson date or no-shows will forfeit the total cost of the booking. If your bike lesson is cancelled due to weather or trail conditions and you are unable to reschedule your booking, a full refund will apply. 
ABILITY LEVEL
LEVEL 1: BEGINNER RIDER
Cross-Country: Comfortably ride paths & roads (paved & dirt) on a bike. And has some experience on mountain bikes riding dirt roads, gravel trails, and 2-track. Can balance & control a bike & brake using hand brakes.
Downhill: All of the above without experience in a downhill mountain bike park.
LEVEL 2: NOVICE RIDER
Cross-Country: Some experience on green (easy) technical XC trails, i.e., easy gradient with roots and rocks; limited mileage on xc mountain bikes; can ride wide turns on wide, smooth trails.
Downhill: Limited experience (less than five days) in downhill mountain bike parks. Able to ride comfortably at slow speeds on green trails over roots/rocks/logs/loose dirt and through corners.
LEVEL 3: INTERMEDIATE RIDER
Cross-Country: Comfortable at slower speeds on technical blue trails with roots/loose rocks/tight singletrack. Can ride corners safely. Has good balance and control in both seated and standing positions. Can ride, balance, change gears, and brake without thinking about it.
Downhill: Bike park experience on green and easy blue trails. 5-10 days of experience riding downhill. Able to ride at moderate speeds on blue trails over roots/rocks/loose gravel & dirt/small rollovers & drops. Looking to learn how to drop and jump safely.
LEVEL 4: STRONG INTERMEDIATE RIDER
Cross-Country: Can ride blue trails and some black XC technical singletrack trails. Can handle small drops/roots/rocks/corners/loose gravel and steeper, descending terrain.
Downhill: Comfortable on all green and blue technical downhill trails at moderate to higher speeds with rollers/easy jumps/wall rides/elevated wooden features. Working on improving jump/drop/cornering skills to handle more challenging trails and higher speeds.
LEVEL 5: ADVANCED RIDER
Cross-Country: Comfortable and enjoys all blue technical singletrack trails with jumps & drops, with significant mileage on black technical trails. And flow trails with jumps and drops on narrower, rougher, steeper and tighter terrain. Able to ride smoothly, retain balance, change gears and brake comfortably at higher speeds and on steeper and rougher terrain.
Downhill: Comfortable and enjoys all blue technical singletrack trails with jumps & drops, with significant mileage on black technical trails. And flow trails with jumps and drops on narrower, rougher, steeper and tighter terrain. Working on more advanced braking, cornering, balancing and improving technique on black jump and drop features.