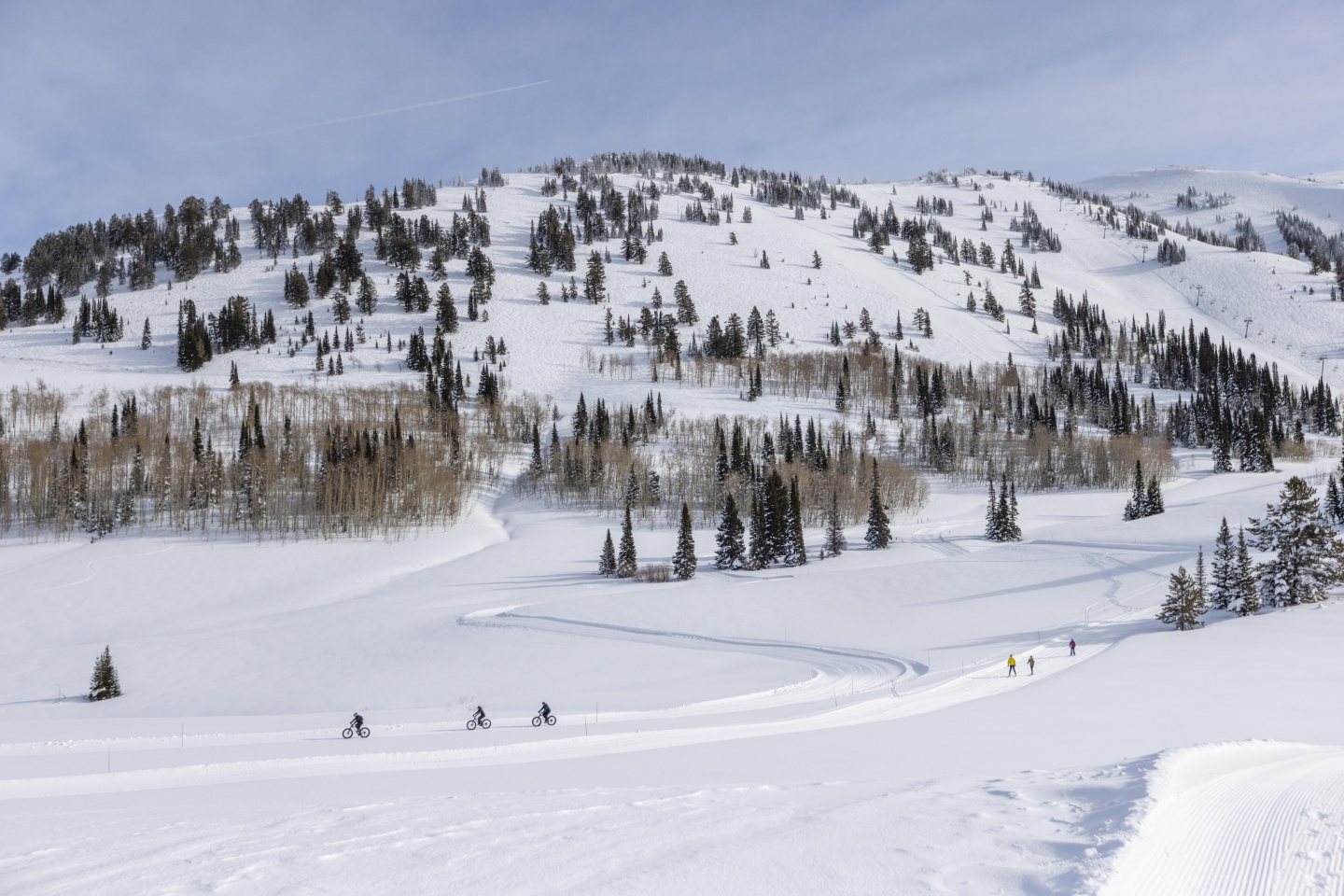 Fat Bike Rentals
In Alta, WY, biking is a year-round love affair. And here, fat bikers enjoy access to 9 miles of groomed Nordic track and over 7 miles of singletrack trails during the winter months. We're proud to have been the first ski resort in the United States to embrace and endorse winter fat bikes on our Nordic trail system.
Please check the Lifts & Trails Report for the most accurate information and trail status.
| product | 2 Hours | 4 Hours | How to Book |
| --- | --- | --- | --- |
| Fat Bike Rental | $30 | $45 | See you next winter! |
FAT BIKE RULES
Helmets are encouraged and recommended.  
Bikes should yield at all intersections. 
Bike Lane: Ride to the left of the classic track and yield to all skiers. Stay to the right side of the trail around corners in case of oncoming skiers. 
Do not ride on the classic track. Only ride on designated singletrack trails. 
Ride Rick's Basin Loop and Quakie Loop counterclockwise only. This is the best direction for the least amount of hill climbing and the best downhill. 
Please let the track set–up until 10:00 am on the mornings when the track is groomed. 
Do not ride in soft conditions. Hard-packed conditions on trails with 2″ of new snow are allowed, but more than 2″ makes climbing and descending very difficult. During a snow cycle, 12″ or more with freshly groomed trails can be too soft. If you are leaving a rut, the trail is too soft to ride. 
Fat bikes must have tires that are 3.7″ or wider. 
Fat bikes need to keep tire pressure between 3 and 7. You should be able to crease the sidewall when squeezed.  If you are leaving a rut, reduce air pressure in your tires. 
Standard mountain bikes and e-bikes are not allowed on trails. 
ALSO REVIEW WINTER SPORTS TRAIL SYSTEM INFORMATION AND RULES.
WINTER SPORTS TRAIL INFORMATION & RULES 
Nordic Trail ticket or Season Pass is required to access the Winter Sports Trail System.  
Hours of operation: 9:00am – 4:00pm daily. 
The Grand Targhee Resort's Winter Sports Trail System will be closed when it snows more than 3″. 
Nordic trails are typically groomed, and the classic track set, on Tuesday, Thursday, Saturday and Sunday, conditions permitting. 
Resort boundaries are not marked. It is recommended to stay on designated trails. 
Trail system is Share the trail. Treat other users with courtesy and respect. 
Keep the volume on your headphones at a reasonable level. 
Dogs are not permitted on trails. 
Over-snow vehicles may be encountered at any time, please give them plenty of space.