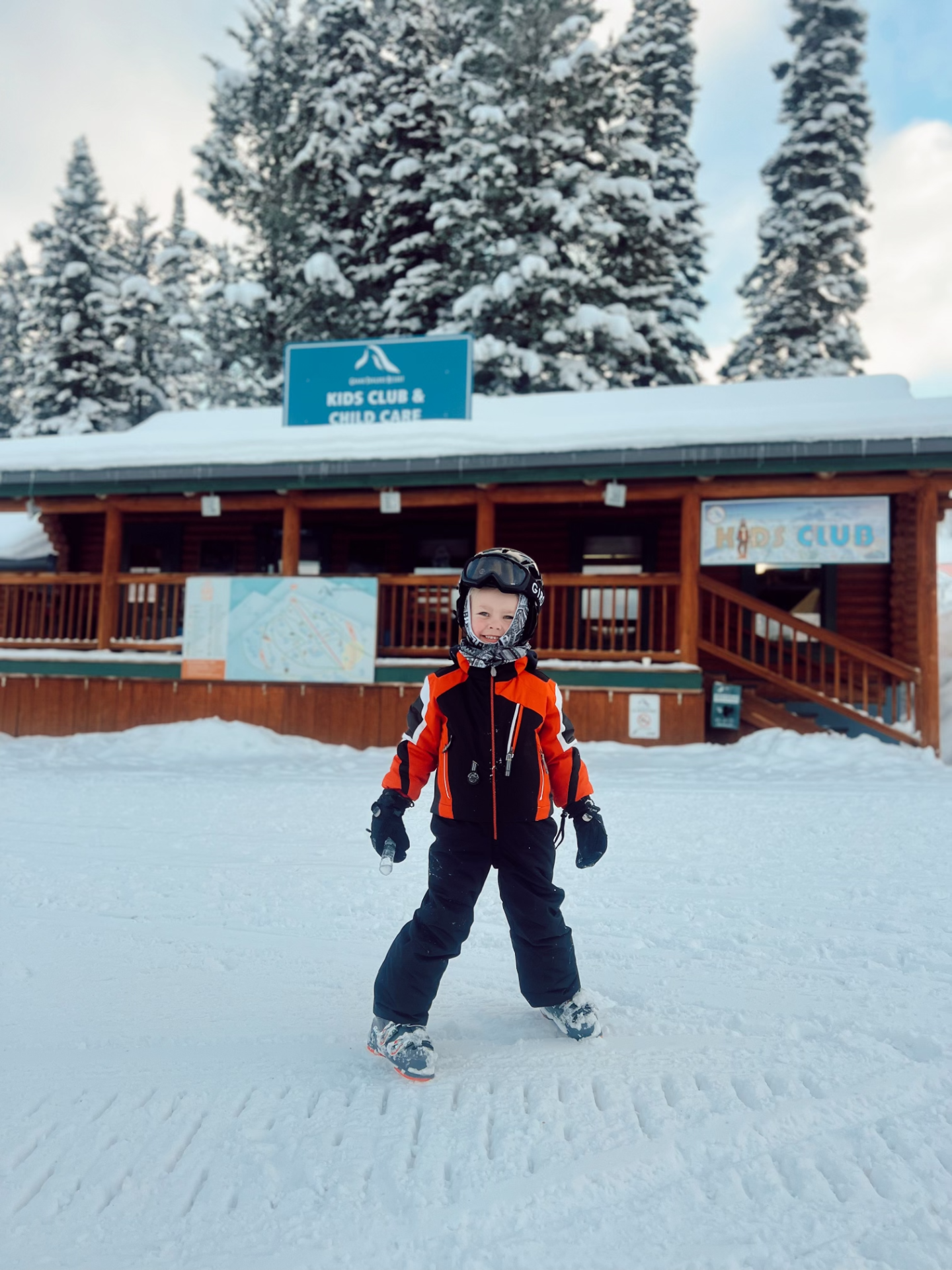 Child Care
Traveling with little adventurers that are not quite ready to hit the slopes? Our licensed child care center is the perfect place for your child to have fun and play. Our program is available to children ages six months to five years of age. Our qualified care providers will keep your children entertained while you hit the slopes! 
Children are provided with stimulating activities indoors and outdoors, including things like cross country skiing, snowshoeing and sledding, when age and weather is appropriate. These activities help them get used to being outdoors in the snow and the movements associated with outdoor activities.
Our childcare is meant to provide a way for parents to enjoy their day on the slopes, worry-free, while their little ones get used to the magic of cold weather activities.
We also offer a private Mini-Moose lesson that can help children transition into ski or snowboard lessons if they are ready. Mini-moose lesson and Child Care are booked separately, visit the Child Private Lesson page for details. 
Product
SESSION TIMES
Price
HOW TO BOOK

Full Day Child Care 

AGES 6 MONTHS - 5 YEARS

8:30am – 4:30pm 
$150
Book Now

Half Day Child Care 

AGES 6 MONTHS - 5 YEARS

8:30am – 12:30pm

or 12:30pm – 4:30pm 

$120
At the Resort
QUICK NOTES
Space is limited. Advanced bookings recommended, especially during peak times and holidays. 
Please complete and email all necessary forms and waivers ahead of time; they can be found below in Waivers and Documents. 
Immunization Records or an Exemption Letter (from the state, due to medical or religious reasons) is required.
Child Care age limits: Infants ages are 6 to 12 months. Children ages are 13 months to 5 years.
Includes indoor and outdoor play, snacks and lunch.
Please bring cold weather clothing for children 3 and up. Snowshoes and cross-country ski equipment provided.
Mini Moose lessons are private lessons and can be added to Child Care. Child must be fully potty trained to participate. Visit the Child Private Lesson page for details. 
How To Book
You can book online by clicking above or by calling our Reservations Team at at 307-353-2300 x1. Before you start the booking process, please gather the following information for each child:
First & Last Name
Date of Birth
Dietary Requirements
Immunization Records or an Exemption Letter (from the state, due to medical or religious reasons)
Parent Email Address
Parent Phone Number
Sign our Winter Activities Liability Waiver
Complete Our Child Care Registration Form
If booking through our Reservations Team, please email the information ahead of time to reservations@grandtarghee.com to expedite your booking process.
For questions or more details, contact Grand Targhee Kids Club at kidsclub@grandtarghee.com 
CHeck-In
Please check-in at the Kids Club with all required paperwork listed under "How to Book". You may email all forms and sign waivers ahead of time to expedite the check-in process. Please bring a spare change of clothes and any necessary items that your child may need for the day.
Make sure you have read the Kids Club Details, Policies, and Procedures that are attached to the registration form. You will find details on what to bring with your child and have an understanding of our policies for sickness, emergency care, medications, disciplines, expulsion and suspension, and more, as they are required by the state of Wyoming.
CANCELLATION POLICY
Cancellations made at least 72 hours in advance will be charged a processing fee of $25 per child per day. Cancellations made within 72 hours of service date, or no shows will forfeit the total cost of the booking. Every effort will be made to reschedule child care bookings with 72-hour advance notice, change is subject to availability. An additional fee may apply for child care booking changes.
Waivers and Documents
Please fill out and email the registration document along with immunization records or exemption letter prior to arrival to Grand Targhee Kids Club at kidsclub@grandtarghee.com