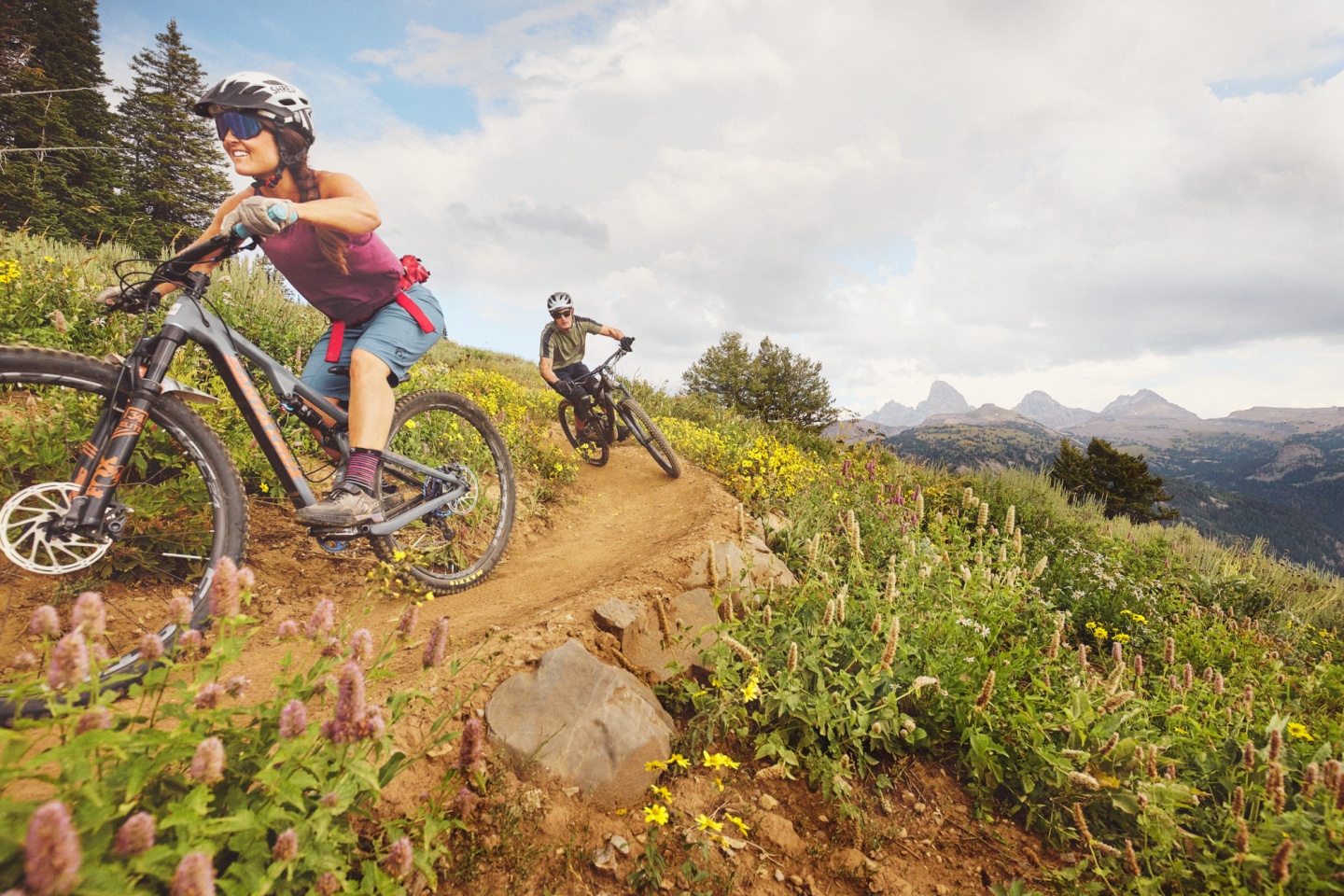 Bike Rentals
Whether you're an experienced rider or just trying out the sport, Grand Targhee and Habitat offer premium rental and demo bikes that will suit your needs. With offerings from Santa Cruz, Yeti, Juliana, and Kona, you're sure to get the quality, performance, and fit you're looking for. Limited inventory available, make sure to reserve your mountain bikes in advance. We do not accept reservations for half-day products or stand-alone items.
PRODUCT
RENTAL DETAILS
Price
How to book

DEMO RENTAL

High-end current model year bikes, mostly with carbon frames. High

end components and suspensions.

AGES 13 YEARS & UP

Santa Cruz Bikes: Hightower, Bronson, 5010, Nomad
Juliana Bikes: Furtado
Kona Bikes: Process X
Yeti Bikes: SB165, SB150, SB140 Lunch Ride
$119

SPORT RENTAL

Quality do-everything bike with components capable of handling all

terrain. Mostly with aluminum frames.

AGES 13 YEARS & UP

Kona Bikes: Process 153, Process 134
$94

YOUTH Bike

Rentals

AGES 12 YEARS & UNDER

Kona Bikes: Shred 20, Honzo 20, Honzo 24
Rocky Mountain Bikes: Reaper 24, Reaper 26
$54
*Helmets and armor are included with all bike rentals. Stand-alone: Helmet: $19/day; Armor: $19/day (Knee, Elbow, and Chest)
QUICK NOTES
Prices do not include tax.
Rental packages include bike, helmet and full armor.
Maximum weight 270lbs.
HOW TO BOOK
We are very excited that you will be enjoying our trails with one of our premium mountain bikes. Before you start the booking process, online or through our reservations team at 307-353- 2300 ext. 1, please gather the following information for each biker:
Name
Date of Birth
Height
Weight
Bike Rental Size (see Bike Rental Sizing Chart)
You may email this information ahead of time to reservations@grandtarghee.com to expedite your booking process through the call center.
NOTE: Most of our bikes are meant to handle all terrain. They can handle our lift access trails and can be pedaled but are not designed primary for uphill use. This season we have a very limited supply of dedicated cross-country bikes. They will be available by phone request only through Teton Mountain Outfitters at 307-353-2300 ext. 1383 daily from 9am to 5pm.
CHECK-IN
Check-in at Teton Mountain Outfitters/ Mountain Habitat located on the Plaza starting at 10am.  
Please sign our Summer Activity Waiver ahead of time to expedite the check-in process. Visit shop.grandtarghee.com, login to your account, go to My Account > Check In.  A rental release form must be signed upon check-in by an adult guest, age 18 or older, responsible for the booking. Any loss or damage to the gear rented will be charged to the credit card used to make the reservation. 
Guests under 18 must be accompanied by a parent or guardian to sign a release form and the summer activities waiver form if it has not already been completed online.
cANCELLATION POLICY
All bookings must be paid in full at the time of booking. Cancellations must be made 72 hours in advance and will be charged a processing fee of $25 per guest or party.  Cancellations made within 72 hours of the scheduled lesson date or no-shows will forfeit the total cost of the booking. If your bike rental is cancelled due to weather or trail conditions and you are unable to reschedule your booking, a full refund will apply.  
BIKE SIZING CHART
DEMO/SPORTS Bike Size Height
X-Small: 4'5″- 5'0″
Small: 5'0″- 5'4″
Medium: 5'5″- 5'10"
Large: 5'11"- 6'2"
X-Large: 6'3"+
YOUTH Bike Size Height
20 Inch: Less than 4'3″
24 Inch: 4'3″-4'7″
26 Inch: 4'6″- 4'11"