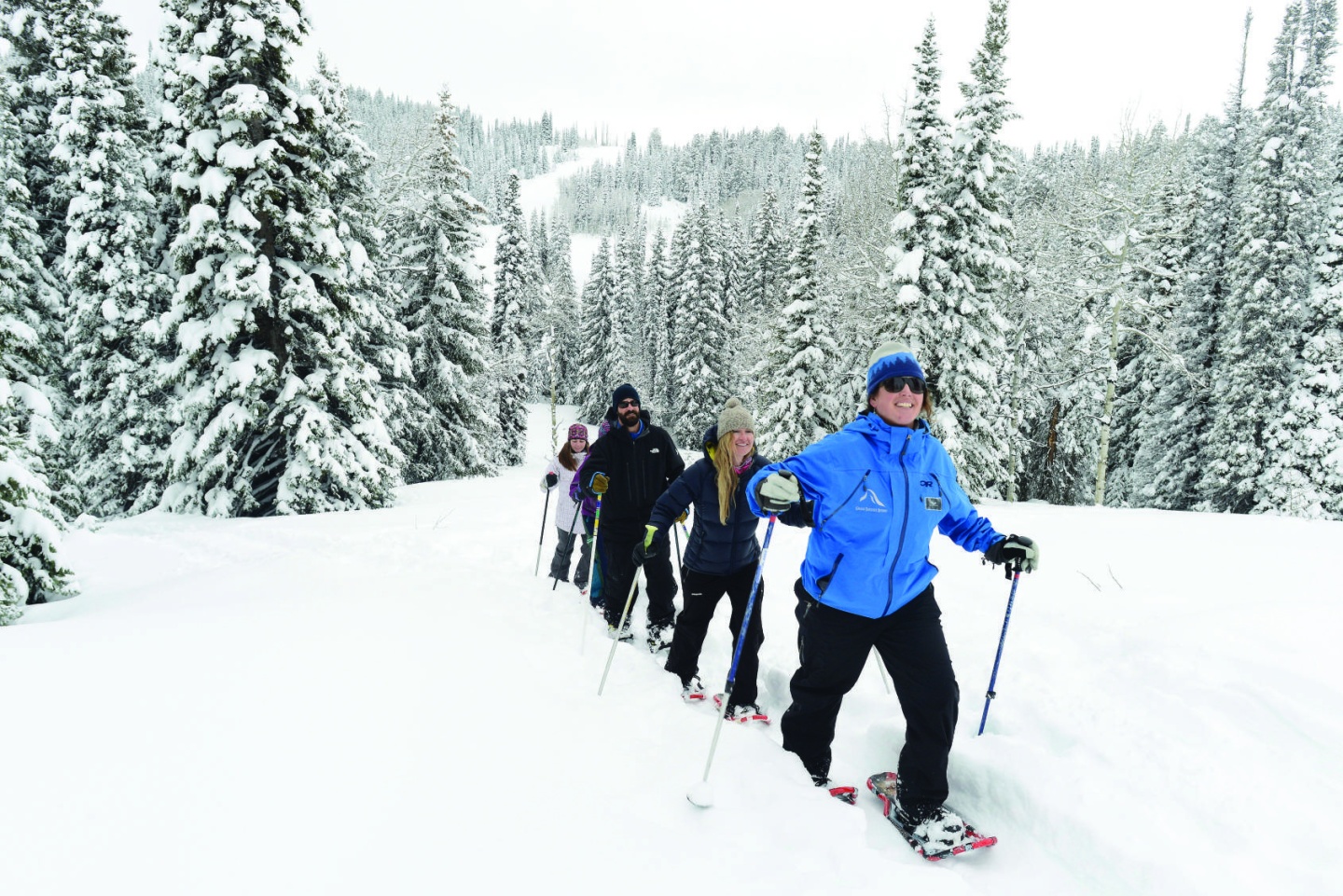 Snowshoeing
Snowshoe Tours & Rentals
Discover winter's beauty at the Ghee by renting a pair of snowshoes and exploring the Nordic trail system. The single-track snowshoe trails are shared with fat bikers and meander through wooded terrain. Snowshoeing is permitted along the traditional widely groomed Nordic and single-track trails, perfect for the whole family or an afternoon winter adventure.
Join our regular or private snowshoe tours where you can learn about the forest surrounding the resort, winter ecology, snow tracking, and the Greater Yellowstone ecosystem. You can also rent snowshoes and explore on your own.
Please check the Lifts & Trails Report for the most accurate information and trail status.
QUICK NOTES
Prices do not include tax.
Nordic Trail Ticket is required to access Nordic Terrain.
Tour includes:  Snowshoe rentals and Nordic Trail Ticket. They are up to 2 hours long and cover approximately 1.5 miles. 1-Hour advance bookings are required. 
Private tours pricing will vary based on the number of guests and length of the tour. 
Children 16 and under must be accompanied by a responsible adult to participate in these activities.
HOW TO BOOK
We are very excited that you will be exploring our Nordic Trails. Before you start the booking process, online or through our reservations team at 307-353-2300 ext1, please gather the following information for each guest:
First & Last Name
Date of Birth
Sign our Winter Activities Liability Waiver
Please email this information ahead of time to reservations@grandtarghee.com to expedite your booking process through the call center.
CHECK-IN
Please check-in at the Ski & Snowboard School to collect your Nordic Trail Ticket. Once the check-in process is complete, our staff will meet you at the Snowshoe Meeting Area for snowshoe rental set up and/or to start your tour. Please allow 30 minutes for the check-in process and rental set up. Please sign our Winter Liability Waiver in advance.
(Guests under 18 must be accompanied by a parent or guardian to sign a release form if it has not already been completed online.)
CANCELLATION POLICY
Cancellations made up to 72 hours in advance and will be charged a processing fee of $25 per guest or rental unit. Cancellations made within 72 hours of service date, or no shows will forfeit the total cost of the booking. Additional fees may apply when a reservation is modified.
TRAIL INFORMATION & RULES 
Nordic Trail ticket or Season Pass is required to access the Winter Sports Trail System.  
Hours of operation: 9:00am – 4:00pm daily. 
The Grand Targhee Resort's Winter Sports Trail System will be closed when it snows more than 3″. 
Nordic trails are typically groomed, and the classic track set, on Tuesday, Thursday, Saturday and Sunday, conditions permitting. 
Resort boundaries are not marked. It is recommended to stay on designated trails. 
Trail system is Share the trail. Treat other users with courtesy and respect. 
Keep the volume on your headphones at a reasonable level. 
Dogs are not permitted on trails. 
Over-snow vehicles may be encountered at any time, please give them plenty of space.